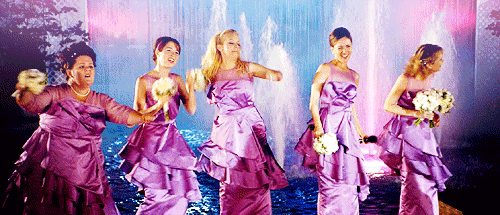 Let's use our imagination here...Of course, I'm not getting married anytime soon (unless this were a movie and Prince Charming has been stalking me for 3 years and finally confesses his love for me, sweeping me off my feet and down the aisle, to the altar pronto but I digress). I don't know if you guys know this but
I love music
. I love music so much, because it's a beautiful escape and the best form of expression. When I was younger I really wanted to be musically talented. I tried to play the violin, cello, piano, guitar and even the stupid recorder. I failed at all of them. I still have dreams of being able to master some instrument, but it's been scientifically proven that it's more difficult for adults to master things like foreign languages and musical instruments but you can do anything if you set your mind to it! So without further delay here are the 5 songs (out of many) that I would really want to be played at my wedding reception (In no specific order):
5. Don't Disturb This Groove - The System
This is a song from the 80's with a synth-pop and R&B feel. I love this song because I actually love the sound of the synthesizer. It's so versatile! The R&B singing over the upbeat, rhythmic music is just a perfect combination. The sound of it just makes you forget about the world around you, it's captivating and everytime I hear it, I get lost in the music. It's also a romantic song, and I could imagine any groom would sing this song to their bride. It's also great for a wedding because it is up-tempo but also has a steady rhythm that makes it easy to dance to.
4. I'll Be - Edwin McCain
"Strands in your eyes, the color of them wonderful stop me and steal my breath..." This song would leave me daydreaming of the perfect romance when I was a teenager. Even today, this song leaves me in a dreamy state. I love it when songs are expressive and emotional from a man's perspective and this one song that's the epitome of that. It's also a very popular song in romance movies, specifically one of my favorite movies,
A Cinderella Story
.
3. Ribbon in the Sky - Stevie Wonder
As I said previously, I love songs that are emotional from a man's perspective. This song is AMAZINGLY beautiful and Stevie's delivery is impeccable. I would probably want this song to be my wedding song, it's the perfect song to describe love and marriage. My favorite verse is towards the end "We can't lose with God on our side..." and I completely believe that when it comes to marriage.
2. Party - Beyonce
Beyonce's "4" album came out shortly after she and Jay-Z tied the knot. The album is full of songs stemming from marital bliss and what is a wedding reception? A party! It's very fitting and the lyrics are perfect for a recently married couple. I'm saving her other song 'Dance For You' for the honeymoon.
1. A cappella - Kelis
I love the lyrics to this song, because it talks about how before you meet the love of your life, everything's a capella. Yes it may sound beautiful but then once you add music, it brings things to a whole new level. Kelis actually wrote the song to talk about her relationship with her son. She felt as if her son brought accompanying music to her 'a cappella' life. The song has a heavy pop/dance/techno sound, but I would love to hear a slower, sensual version of this song on my wedding day.
A few honorable mentions:
Ignition - R. Kelly
Celebrate Tonight - Allen Stone
We Found Love - Calvin Harris
Man I Feel Like a Woman - Shania Twain (Would totally dance with my bridesmaids to this song!)
Heaven - Bryan Adams
Blame It - Jamie Foxx
Green Light - John Legend
Kiss Me - Sixpence None the Richer
Let's Stay Together - Maroon 5 version
Crazy Lucky - Better Than Ezra
Are You Gonna Be My Girl? - Jet
You and Me - Lifehouse
Bust Your Windows - Jazmine Sullivan (So he'll know what to expect if he cheats lol...Kidding!)
I'm not the best singer but I love to sing. One thing I would love to do at my wedding is sing a song to my husband. I'm not sure which song, but I'd love to sing to him and express my emotions through music...That would be awesome.
Now back to reality...